Carve Carrbridge 2023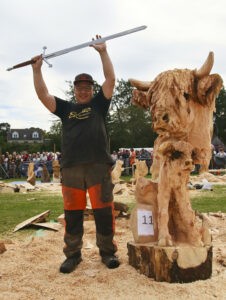 PRESS RELEASE FROM CARVE CARRRIDGE – THE SCOTTISH OPEN CHAINSAW CARVING COMPETITION 2023 
2nd September 2023
He came, he carved he conquered! 
Mongolian carver Lhkhagvadorj Dorjsuren has scored the quadruple at this years Carve Carrbridge not only picking up the coveted Claymore Trophy but also the Peoples Choice, Carvers Choice and Best New Entrant with his depiction of a Highland cow and calf, titled "Hairy".
For Lhkhagvadorj – also known as George – this was his first ever 4 hour carving competition, being more used to 10 day events in his homeland. He described the competition as challenging but incredibly special. Commenting on his win, George said: "It's a very special feeling I have, this being my first trip to Scotland and the UK and winning this competition. When I knew I was coming to Scotland to take part in Carve Carrbridge, I researched Scotland on the internet because I wanted to carve something typically Scottish, so it had to be Highland cows."
Today marked the 20th anniversary of Carve Carrbridge, with its longevity a testament to the passion and dedication of chainsaw carving mastery from around the world as well as the many local volunteers and sponsors who come together year on year to deliver such a massively successful event.
Joining George on the winners podium for the 20th Scottish Open Chainsaw Carving Competition were:
2nd place was Johnny Stableford with "Ya Wee Dancer"
3rd place was last year's winner Sam Bowsher with "Live Giraffe Love"
With only four hours to create something truly special, the end results are judged on artistic merit, technical difficulty, and originality. Once the 4 hour carve is completed, there's no rest for the carvers who then have to produce another mini masterpiece in the 30 minute quick carve competition.
After a summer of less than summery weather, the sun shone down on Carrbridge today (2nd September) making ideal conditions for the carvers and the (almost) 3,000 spectators.
Gavin Gerrard Event Coordinator said: "If you are going to travel half way across the world to attend Carve Carrbridge, what an amazing result for George to win not just one category but four! All the team are delighted for George, a truly talented chainsaw artist. He is well known for his carvings of big beasts with craggy faces and his creation today for us at Carve Carrbridge was very special – he's a very well deserved winner and absolutely loved by the crowd. Once again the judges had some really clever creations to choose from.
"Carve Carrbridge is 20 years old this year and continues to go from strength to strength thanks to a dedicated band of volunteers and generous local sponsors who continue to support the event."
ENDS
For more information call Gavin Gerard on 07771 914598
NOTES TO EDITORS
Image attached to this press release shows Carve Carrbridge winner Lhkhagvadorj Dorjsuren with his creation "Hairy". Please credit James Ross.
For more information please visit the Carve Carrbridge website: www.carvecarrbridge.com.
You can also follow us on our social channels:
Judging panel is led by local artist Rosie Reed.
First Prize is £500 cash provided by Stephen Blair Tree surgery and Grounds maintenance along with the Tom Jones Claymore, MSA140 Cordless Chainsaw provided by Stihl UK