Meet the Team
Carrbridge is a village of less than 800 residents with immense Community Spirit and pride.
Carve Carrbridge is now in it's 18th year and in 2019 we counted over 60 volunteers who make the event the success it has become –  year on year.  Without their support this event would not happen.  We rely heavily on our day volunteers and volunteer coordinators doing jobs such as Traffic Management, the Gate Team, Auction team, the team that very few people see who feed the Carvers and volunteers as well as those who help set up and clear the venue in the days before and after the event and other volunteers doing everything in between, before and after.
Throughout the year a core group of volunteers coordinate the event so here is a brief introduction to the 2019 team.
Gavin Gerrard

Gavin came to Carrbridge in 2000 and in 2006 was asked by the Community Council to pick up the lead for Carve Carrbridge from event founder Tom Jones.
He has coordinated the event for 14 years  drawing on his skills as a Civil Engineer / Project Manager delivering infrastructure projects for an international construction company.
Gavin is often off on his bike, skis, kayak in Scotland, France, Norway, USA, Alaska etc, etc………………….(you get the picture).  In 2009 Gavin completed Kayak Caledonia an 800+ km trip by sea kayak to circumnavigate the North of Scotland, raising funds for Macmillan and Childline 
"Since first getting involved with the Carve two things have always really impressed me. Firstly the talent and creativity of the carvers and also the incredible number of local volunteers and businesses, who year on year, give their time and support to make the event possible.  It is a real credit to this community and a privilege to be able to play a part in that."
Doug Jeffrey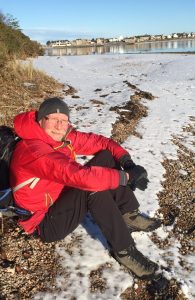 On retiring to Carrbridge from a career working with young people and community groups in and around Edinburgh, Doug took on the role of Carvers/Arena Coordinator in 2014. Doug is an outdoor  enthusiast and is often found climbing, biking, kayaking or skiing the mountains, lochs and  coasts of Scotland and overseas.
Doug is a Director of the community company Carrbridge Ahead.
Merchandising and On Site Catering Coordinator
Lara Campbell
Lara is our longest serving team member and has been involved since the start of the event founded by Tom Jones. She has fulfilled a number of roles on the team over the years.
Lara is recently employed by sponsor Landmark Forest Adventure Park having worked for many years in Hospitality. She is also a Director of Carrbridge Ahead.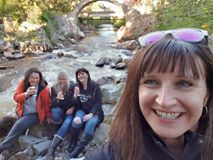 Lara is usually behind the camera tho Lara and Margarete are pictured here with Gin and Prosecco cocktails and Paige from the Old Bakery – Selfie taken by Karen on Midsummer night 2019. Karen also volunteers on the day to do Face Painting and with the Event Press Releases which is of course the purpose of this meeting!!
Lara's children have  grown up with Carve Carrbridge and with husband Bryce been regular day volunteers and it gives us great pleasure to welcome her daughter Zoe to the team for 2019.
Stalls and Traders Coordinator
Zoe Harrower

"I feel a real sense of pride in this event as my Mum has been heavily involved in Carve Carrbridge since its first year and am excited to join this dedicated and hard-working team. I work locally at a timeshare resort and am a busy mum of two. I thoroughly enjoy and make use of our local amenities….a particular fan of the local pub, Cairn Hotel."
Dean Stephen
Dean (like Zoe)has grown up with the Carve.
His mum Norma served on the team for many years
. Dean's dad Colin is a regular on the Car Parking team and has in the past delivered the logs for the event.
Dean has been pressed into service on more than a few occasions over the years and although Dean volunteers from time to time, this role is a new venture and his energy and
enthusiasm are a welcome addition to the team.
Currently employed by ScotRail, Dean has extensive experience in customer facing roles.
Dean made his Carve debut as a piper leading the Carvers Parade in 2011
Stuart MacDonald
Stuart has been a day volunteer at the Carve for a few years and has now retired
from being a Mechanical Engineering consultant,  he brings a wealth of experience to the event. Coordinating  set up and clear up, Stuart leads a team of volunteers to provide behind the scenes support that makes it all happen as long as there is a supply of bacon rolls, tea and coffee.
Stuart is also a Director of Carrbridge Ahead
Publicity and Media Coordinator
Margarete Paschke
Margarete is a lecturer at the University of the Highlands and Islands and has been involved in the event for a number of years as a day volunteer and has recently taken on the role of managing the website, social media as well as press / media enquiries.
As a previous organiser of the Golden Spurtle World Porridge Championships she recognises the importance of events in building community  profile and spirit.
Like Lara, Margarete is often behind the camera.