'Petto'
The Mountaineer, Kayaker and Golden Eagle commemorates the life of Tom Jones.
As the plaque states ' his ideas gave rise to 'The Gathering' which has become Carve Carrbridge and the Scottish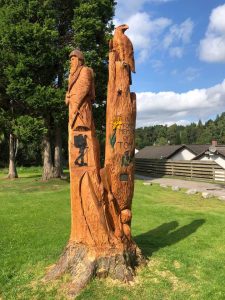 Open Chainsaw Carving Competition®.
This carving also symbolises 2 things about Carrbridge.
It celebrates Tom's own life of adventure but also his aspiration to inspire a community to come together through 'The Gathering"
His wife Allyson provided the information below to explain the features of the carving and gives a personal insight into the backstory of Carve Carrbridge.
'Petto' is the name by which a whole generation of village children knew Tom and the nickname came from a time when he took his granddaughter Jesse to see Pinocchio from then on she was Noki, and Tom was Petto ( Geppetto, the grandfather).
At the back of the carving the carvers Pete Bowsher and Craig 'Steeley' Steele have created a stair case to a Fairy Door to entertain Evelyn,  the granddaughter of Doug Edwards who lives next door. Doug has supported the Carve Carrbridge as a sponsor and volunteer for many years and kept the carvers going with drinks and cake throughout the time they were working.
'The Daffodil symbolises Tom's land of birth Wales and the Thistle for Scotland, his chosen land to live'.
'The black silhouette is the logo of Tom's last big expedition to Smith Island Antarctica and his love of mountaineering is also represented, Tom was also a good canoeist and a fearless white water paddler in his day, footage of Tom doing a 'pop out' in a stopper was once used in a TV advert'.
Allyson tells of the time when Pete Bowsher called at their home on his way North to deliver a carving of a seal 'it was the loveliest thing, carved from a complementing wood and the seal's fur looked quite real'
'On the strength of this we commissioned Pete to carve a bear like the American bears they had seen on a skiing holiday near Lake Tahoe whilst staying in a hotel that was a favourite of actor Charlie Chaplin. When it arrived, it turned out to be the magnificent beast that has stood outside our house ever since.'
This piece written by a friend tells more about Tom's Life
The eagle on the top of this carving looks towards the field where 'The Gathering' has evolved to become and event continues to inspire a community of volunteers and the Children and Young People's Fund is a legacy to the young people of the village to support them in seeking their own life's adventures.
Polite request
Please be aware of the uneven terrain in woodland areas and wear appropriate footwear.
Please take care when crossing roads.
If walking dogs please ensure you pick up and deposit in the Dog poo bins
at the entrances to woodland beside the Landmark Car Park,

at the Riverside path near the main road.