Rowan Cottage
These carvings can be viewed from the path in the front and side Garden please respect the privacy of the home owner who has kindly included them on our trail.
The Owl ' Twit Twoo' was a 'Quick Carve' at Carve Carrbridge in 2012

The proceeds of the Quick Carves goes directly to Village Funds to help with the running of the event.
The bench of the Old Bridge was carved by 'Thor' in 2011. From the USA, Bruce Thorsteinson 'Thor' is a 3rd generation Icelandic American and an accomplished artist.  Thor had spent some time in the Cairn the night before searching for inspiration and on the morning of the Carve still had not decided what he would carve. 

As it happened some lovely china mugs had been found in storage in the village and were destined for the Crockery smash. They were salvaged and were being sold on our Merchandise stall for £1. He bought one and used it as the inspiration for this bench.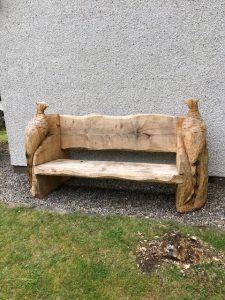 'Pheasants Rest' was carved by Craig 'Steeley' Steele in 2018 at the inaugural Garnock Carves event in Ayrshire.