Seafield Cottage
There are many examples of Alice's work around the village, from carvings in our public spaces to a number of private commissions.
The collection at Seafield Cottage include carvings by Alice and Jeff Buttress,
The 'Indian and Wolf' by Uinnsinn Bateman and  'Ying Yang Dragon' by Tommy Craggs – were both carved at Carve Carrbridge in 4 hours using only chainsaws.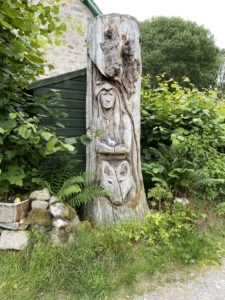 These carvings can be viewed from the footpath, please respect the privacy of the home owner who has kindly included them on our trail.
If you continue along the track behind the house you will find a circular path across the Ellan Bridge along the side of the River Dulnain 
As you emerge you will find the Wood spirit which can be seen and photographed from the Bridge.
The QR code which tells you more about the folklore of the Wood Spirit is attached to the Wooden Fence for safety reasons .