Carve Carrbridge 2022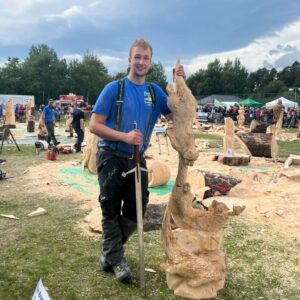 PRESS RELEASE FROM CARVE CARRRIDGE – THE SCOTTISH OPEN CHAINSAW CARVING COMPETITION 2022 
3rd September 2022
Utterly good chainsaw carving conquers Carve Carrbridge 
Back with a bang – well a buzz! Carve Carrbridge returned today (Saturday 3rd September) after a covid-forced hiatus with over 3,500 people flooding the Highland village to watch in awe as 21 chainsaw carvers competed to create something truly special in just four hours with carvings judged on artistic merit, technical difficulty, and originality.
The winner of the 19th Scottish Open Chainsaw Carving Competition certainly had all of that – with an intricate depiction of two agile otters at play. 'Utterly Otterly' by Sam Bowsher, 24 – the competition's youngest ever winner – wowed the judging panel and was awarded the coveted Claymore Trophy. Making it two years in a row for Sam, who won last year's Virtual Carve.
Sam has been coming to Carve Carrbridge since he was about 6 years old, watching his Dad and multiple winner, Pete Bowsher in action. Sam made his debut at Carve Carrbridge in 2019.
Commenting on his win today, Sam said: "It is absolutely brilliant to win Carve Carrbridge – and always good to get one over on my Dad! I think this was a tough year too – we were all looking at each other's carvings and I don't think any of us could call it, so I was a bit shocked to win. I like carving otters but I haven't done them like this before and 4 hours isn't much time, but I like to carve fast which makes this event so much fun."
2nd place was Guillaume Andelot with 'Asterix in Scotland' and 3rd place was Chris Wood with 'Wolfer'
Winner of the Peoples Choice was Iain Chalmers with 'Bear Necessities'
Winner of the Carvers Choice was Jonathan Sherwood with 'Rooster'
Best New Entrant was Guillaume Andelot
The sunny weather as well as the chance to purchase one of these original pieces of art at the Grand Auction, attracted thousands of people to the event, which is organised and run by over 70 local volunteers with support from a variety of local businesses.
Gavin Gerrard Event Coordinator said: "We are delighted to see the return of Carve Carrbridge after a two year absence, it's been missed by everyone and we are so grateful to all our competitors and their families for coming, our generous sponsors and our band of incredible volunteers. Virtual events are great but it's just not the same as the real thing. Many congratulations to Sam on his victory today – two years in a row – his carving is certainly a very deserving winner."
This year's Carve Carrbridge colours were blue and yellow to show support for Ukraine with £1 from every t-shirt sold going to the Ukraine appeal.
ENDS
For more information call Gavin Gerard on 07771 914598
NOTES TO EDITORS
1.      Image attached to this press release shows Carve Carrbridge winner Sam Bowsher with 'Utterly Otterly'. Please credit James Ross. Other images available on request from [email protected]
2.      For more information about the event and all the carvers taking part, please visit the Carve Carrbridge website: www.carvecarrbridge.com.
3.      You can also follow us on our social channels:
4.      Judging panel is led by local artist Rosie Reed.
5.      First Prize is £500 cash provided by Stephen Blair Tree surgery and Grounds maintenance along with the Tom Jones Claymore, MSA140 Cordless Chainsaw provided by Stihl UK